Maybe my mob name could be Big Florets.
You don't need another chippy In These Times email opener. You need a simple dinner for two that doesn't ask too much of you. This might be it.
To make it, you need a red onion, a head of broccoli, some halloumi, harissa, and tahini, plus a couple of lemons and a pinch or two of salt. There's also a single clove of garlic but it works hard.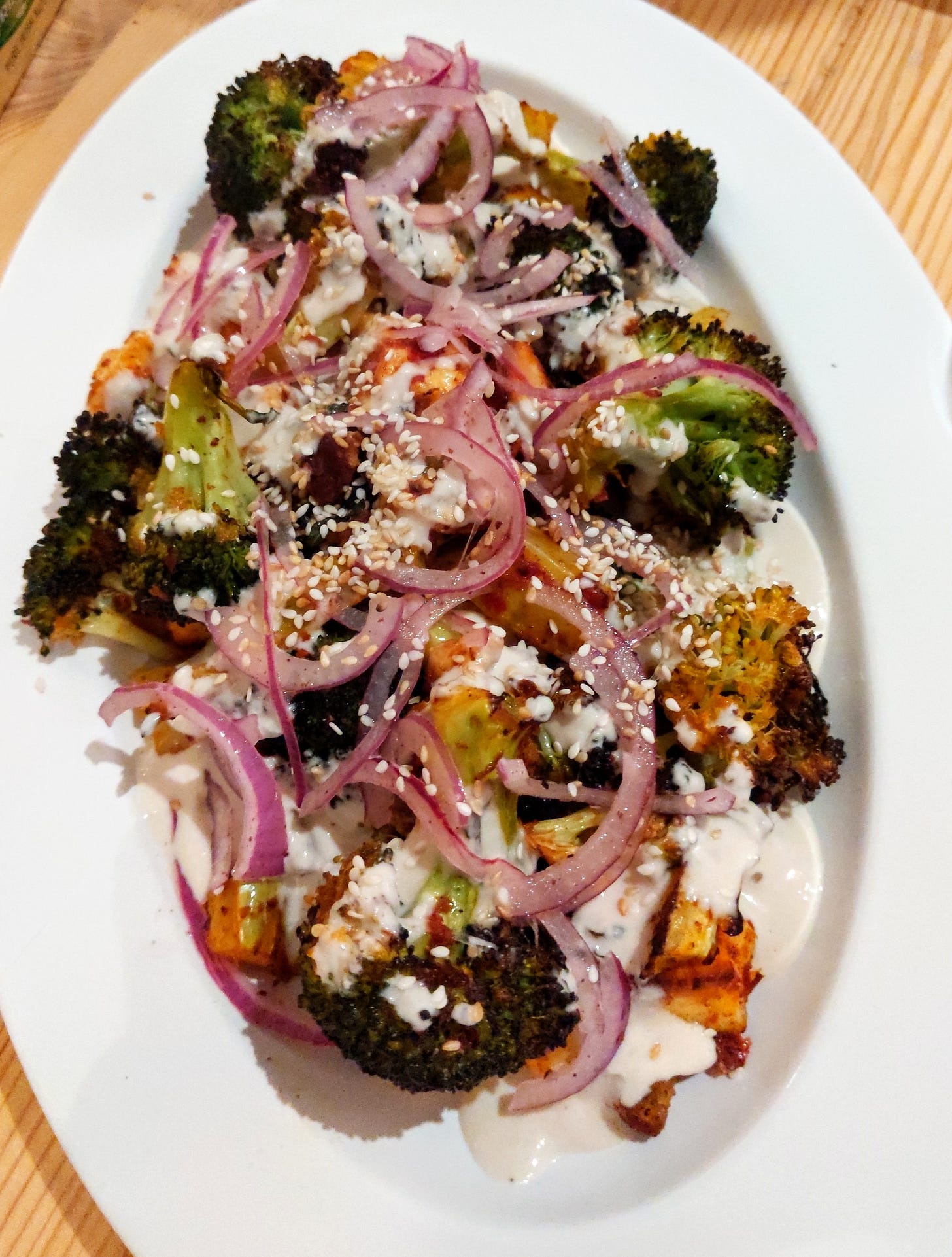 Set your oven to 220°C. Put the kettle on to boil.
While things are heating up, take one red onion and cut it in half from top to bottom. Peel the halves and slice them as thinly as you can manage into little semicircles. Place your sliced onions in a bowl just big enough to fit them, and give them a good pinch of sea salt and the juice of a whole lemon. Now, and every time you remember to do it over the next half hour or so, give your onions a little stir: they'll soften and change colour to a beautiful pink.
Now take an ordinary roasting tin, a large head of broccoli, and a brick of halloumi. Cube the halloumi by slicing it in three lengthways, then in three across those cuts, and then turn it over once and slice it in three lengthways again. Add to the roasting tin.
Snap the florets off the head of broccoli and put them in the roasting tin. Cut the broccoli stalk into chunks, and do the same with them.
What you want to do now is to coat the broccoli and halloumi with a few glugs of olive oil and some harissa. I had this wildly fancy rose harissa in the fridge, and I used two or three teaspoons, but whatever you have will be fine – just taste it to get a sense of the heat level as this can really vary, which is why I haven't given exact amounts here. Toss, possibly using your fingers, to make sure you're coating everything in the tray. Add some black pepper and a scant pinch of salt (there's already lots in the halloumi).
Put the roasting tray in the oven and set a timer for fifteen minutes. You can shake it around halfway through if you remember. Have you been stirring your onions? Stir your onions.
With that cooking, all you have left to make is a little sauce. Into a small bowl or a pyrex jug, grate one whole clove of garlic. Add the juice of half a lemon and a pinch of salt. Stir. You could let this sit for a little while to take away the harshness of the raw garlic, if you prefer. Add two tablespoons of tahini and stir. When it's all incorporated, drizzle in some hot water from the kettle, stirring all the time, until your sauce is about the consistency of double cream. Taste it for lemon and salt and adjust as necessary.
When fifteen minutes is up, remove your roasting tray from the oven: the broccoli should be browning and crispy at the edges, and the halloumi should be going golden with lovely crispy edges too. If you're being fancy, shuffle the lot onto a big plate. Now drizzle over your tahini dressing and then top with the pickled onions – you don't have to use them all at once but they're pretty moreish, and they play nicely with everything else on the plate.
Serve with some warmed pitas or flatbreads if you have them, bread and butter if you don't. Couscous or rice or a carb of your choice will be just fine too. And that's dinner, for tonight at least.
Giants, shoulders of. This was inspired by Rukmini Iyer's sprout/halloumi/harissa dish from The Green Roasting Tin, and the Bon Appetit recipe for crispy broccoli with tahini sauce. Both are great sources of simple, delicious recipes.
The greatest flatbread. If you have even a little more energy than I did, you could make the wonderfully easy and wildly tasty flatbreads from this recipe. Super-simple and once you've made them once you'll be making them forever. If you're in a pita place, you'll need a bit more time but I've had great results with Felicity Cloake's recipe (and I'll have more suggestions for things to stuff into those very shortly).